HATMAKING CLASSES
Pillbox Hat

(Cost: $125.00 plus $30 for kit. Total $155.00)

Learn how to make a pillbox that is lined and adorned with your choice of trimmings.

August 2, 2019 thru August 3, 2019, Friday and Saturday beginning at 9am. Classes will start at 9am to 5pm each day. Deadline: Friday, July 19, 2019.

You can bring your own lunch. Snacks and drinks will be served free.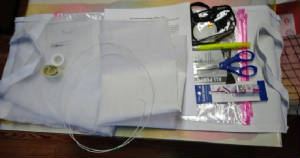 Buckram Hat Kit:

Basic supplies for making hats with buckram foundation, enough for one hat. Supplies included:

Heavy buckram (30 inch width)

Batting

Bias tape

Brim wire

Wire joiners

Milliner needles

Instruction sheet to complete hat

Tote with 5 pockets and room for more

Garden Party - Pillbox with a brim!

To continue your pursuit of millinery techniques working with buckram, this workshops is a must!
In this class you will learn how to make a hat with a brim. You will also learn various ways to wire the brim to make it do what you want it to do! This is a 3 day class, six (8) hours per day.

November 7, 2019 - November 9, 2019 (Thursday thru Saturday)
Registration deadline: Friday, October 18, 2019

Hours: 9am - 5pm
Cost: $150.00 Payable upon registration.
Kit fee: $50.00 Payable at workshop
Basic sewing experience required.


Nothing like the sun! Scheduled upon demand.

Have fun with this hat - dress it up or dress it down!

It is a eight hour per day, three day class.
You should bring:

Fabric scissors, paper scissors, small scissors for hand sewing

2" x 18" clear quilting ruler

Fabric marking pens/pencils (washable or air soluble)

Measuring tape

Thimble (opt.)

Straight pins (long with ball at the end) and pin cushion

Seam ripper

1/3 yard fashion fabric to cover hat – bring several pieces from which to choose (stable fabrics such as brocade, thin wool, linen, cotton, etc. – do not bring hard to handle fabrics or fabrics that fray)

1/2 yard coordinated lining fabric (should be "slippery" plus light and crisp)

Thread to coordinate with fashion fabric and lining

Note: An ironing board and steam/dry iron will be available.